Angry Monster and bedtime
This monster is discombobulated! He's out of control! Roar! What's gotten into him?
You know what makes me angry?
BEDTIME.
BEDTIME makes me ME VERY, VERY ANGRY.
You know what doesn't make me angry?
PAJAMAS.
Pajamas make me warm and cozy, and not mad at all.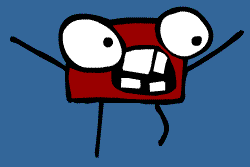 This monster is very disgruntled. But maybe if we give him some ice cream, and pajamas, he'll find a way to relax. Or a pillow, and some chamomile tea, and a lullabye.
Nobody should be mad all the time! It's okay to be mad SOME of the time. It's OK to be mad, Mr. Monster. We're here for you. Would you like us to sing you a song?
The A-B-C song? We don't want you to be so mad that you can't go to sleep, Mr. Monster.