Wormboo the Worm's Awesome Adventures
Sherman loves taking strolls in the garden to see all his friends! Here's a page where Wormboo is having a serious business meeting with all her worm friends.
Get your book on Amazon.com now
to find out what other surprises there are! Narrated by
Sherman the Giant Snail
.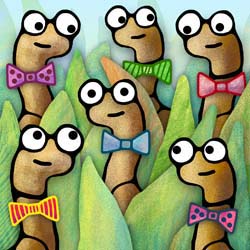 Wormboo demonstrates how to tie a tie in six steps: