Slugs are great
Slugs are great because they are slimy and they like to mosy. They don't really have a care in the world. Also they come in many shapes and colors and can be very fashionable. Some slugs, like Sluggo the Slug, are super musical. Sluggo the Slug can sing a doo-wap tune like nobody's business. All the slugs and snails live in the garden, where it is wet and mucky, just the way they like it.
Most slugs are slow-moving except for Danger Slug. He's very concerned for your safety and he can move very fast.
LOOK BOTH WAYS BEFORE YOU CROSS THE STREET!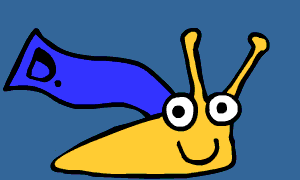 See more
Danger Slug
Slugs
All stories